Air conditioners have become a vital utility in modern houses, but many homeowners struggle with finding an ideal storage room for their HVAC unit and struggle to make that storage room compelling with their home aesthetic.
If you have, or had, this problem, probably your HVAC guy's solution was to place it in your only hall closet… Yikes! Even though this HVAC guy may be useful in installing your AC but what does he know about aesthetics?!
Fear not, our dear readers, we came up with brilliant HVAC closet door ideas, so you don't have to! Stay tuned for our HVAC closet door tips if you want to have a stylish completed door for your HVAC unit!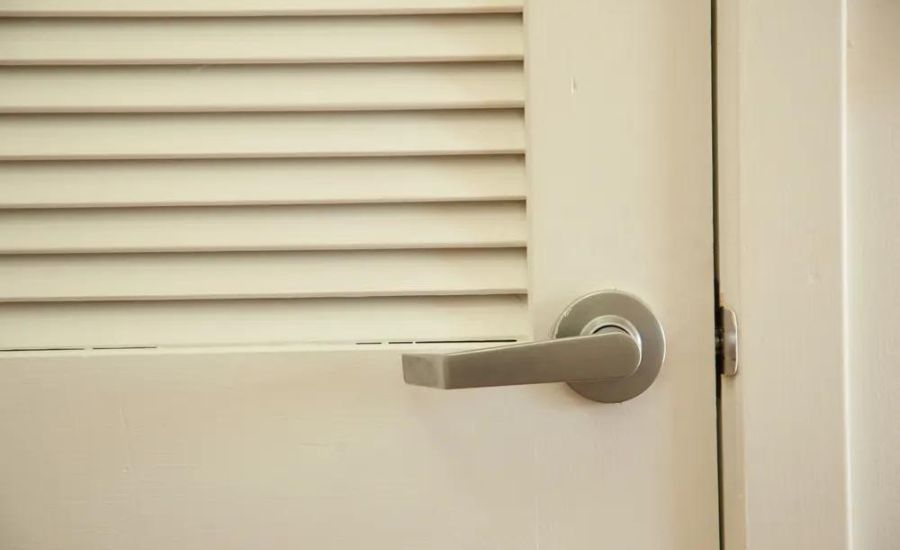 All about HVAC
What is HVAC?
HVAC is an air conditioning system that regulates warm and cold air inside your home. It provides you with warm air circulation outside or inside the house.
Moreover, HVAC removes hot air, replacing it with cold air at higher temperatures you may experience during summer. When it is time for low-temperature weather, the HVAC system inserts warm air, causing the exhaustion of cold air.
Requirements for your HVAC unit
Usually, HVAC systems were put in the attic but later on, it was conducted that homeowners are reclaiming storage space and their HVAC moves to another area.
Thus, the only hall closet, or even the laundry room, often becomes the regular space for an HVAC unit.
Of course, initially, it is recommended that your HVAC system have a designated storage room area. So, it may require now slightly larger space. After all, you want to keep your unit in a safe and protected space. Placing it in the attic would not be wise due to the potentially extreme heat during summer.
However, homeowners usually fail to consider two main factors while choosing their "HVAC closet" – ventilation and space. So, before you rush into designing your interior door, be sure to keep those things in mind to avoid any troubles.
Ventilation
First of all, you are required to provide a sufficient amount of airflow in your HVAC closet room!
In any situation where your unit is designed to burn fuel, you need to look for door ideas that provide enough venting and have access to fresh airflow from your home to your utility closet. Even if you think you have sufficient combustion air, it is required for your utility closet to provide extra ventilation.
Overall, it is not a hard task to accomplish. All you need to do is to install a double pipe system or a single pipe system with a double inner layer. The size will be purely dependent on the size of your entire unit (not the closet room!).
Furthermore, you also need your utility room to be vented to avoid any risks of fire hazards. The heat should safely escape, so make sure to remove any potentially flammable objects in your HVAC closet (including insulation) before your HVAC contractor installed your unit.
Space
Make sure your closet door frame has enough wiggle room to get your HVAC inside the closet. Your door width should be at least 2 inches bigger than your furnace unit from both sides to allow you to freely transport your HVAC in the future.
Also, bear in mind that there are requirements for a specific space in-between your closet door and your furnace, depending on the type of HVAC you have.
Generally speaking, your HVAC room cannot be smaller than 50 cubic feet per 1000 BTUs of heat produced by your unit.
If you wish for a reduced floor area, you can install HVAC in a living room. It can blend in well with all the furniture and aside from saving floor space, it also may reduce any noise caused by HVAC.
HVAC closet door ideas and requirements
As we finished explaining all the technical parts of your unit, let's go over your HVAC closet door ideas.
Size of the door
HVAC closet door general requirements are the installation of a foam-insulated garage door seal and a door sweep.
The sizes you should look for are 14, 16, or 18 inches.
You should also take into consideration an R-value of the door. (R-value is a value of how a good door can insulate heat.) R-value for 14 inches is .9 while for 16 inches it's .8 and for 18 inches it is 1.
The size of your door jamb will determine the type of door you would want to choose for your HVAC room.
Soundproofing
The modern HVAC unit is generally quiet, but if your closet is located in your bedroom, you would want to consider a soundproof feature.
It can easily be done by adding acoustic panels on the back of your door.
Also, you can change an ugly hollow core door to a solid door or insulated exterior door to immediately reduce any noise coming from your HVAC unit.
Aesthetics
While an HVAC installer may not consider the beauty factor of your closet door, homeowners consider it to be a vital part of their interior design.
Think about whether you want your HVAC closet door to be fitted with an entire design of your room, or if would you like to accentuate it from the rest of the decor.
If you want your closet door to blend with your home, consider matching it with other doors in your house. A wooden door would be a viable option if it can provide any ventilation.
If you can't match your closet door with the rest of the home, then the best solution would be to make it stand out and allow yourself to be more creative. Order a custom door if you are up for any alternative door ideas. Some homeowners have purchased custom interior doors to add some flavor to their room design.
Types of door
Generally speaking, there are two types of doors – sliding and swinging. Sliding doors are used for smaller spaces, contrary to swinging doors, which accommodate larger rooms.
A sliding door is a good option if you have a small closet as it doesn't take much space as it goes with swinging doors.
Swinging doors, however, allow a larger airflow, and you may consider choosing them if you have enough area.
The common louvered door is technically considered to be a good option for your HVAC closet door since its structure allows good ventilation for your unit. Even if it is a gas-heated system, outside air is still needed (it is also known as combustion air).
Thus, a louvered vent would be up for this task.
Barn door style would save you much space and replace ordinary closet doors if you struggle with sizes.
Artistic barn doors. It doesn't have to be just a regular door, as it can include a metal vent or wooden panels that can be installed on a barn door structure.
What you should AVOID doing with your HVAC system
Avoid too hot or too cold temperatures. Do not neglect your heating system as it can damage its internal components. If the room temperature is heated or contrary, you have a colder closet, which can impact your HVAC motor, and it could stop working completely.
Avoid high humidity as it can lead to the appearance of mold and mildew. It will eventually lead to condensation of your HVAC unit, causing low airflow or frequent breaks during overheating.
Don't let your filters get dirty because your heating system may be clogged with dirt or dust, leading to overheating and low airflow.
Don't run your HVAC system for too long and too often. If you want your unit to serve you for a longer time, do not constantly run it 24/7. It will again lead to overheating.
Do not try to fix your HVAC system on your own. If you are facing any technical issues with your HVAC, don't try to fix them by yourself. Instead, contact your HVAC company to send you their HVAC guy to run a maintenance check. Generally, try to get your AC unit checked every three months or twice a year.
We hope that you find your answers in this article, and it would be just a matter of time before you will get your closet door readily designed according to your liking!
FAQs
What kind of door do I need for the AC closet?
The common solution would be a sliding barn door as it takes less space compared to swinging doors. Of course, you can still use swinging doors if you have larger rooms, as they provide you with access to greater air distribution.
Do HVAC closets need louvered doors?
These types of doors are considered to be perfect for your utility closet as they provide you with ventilation. Ventilation is a major factor you want to consider for your HVAC closet door as it allows the flow of indoor air. It will prevent your system from overheating.
Although it is not a standard for your door opening, you can use many alternative ideas for your custom interior doors. 
What can I use instead of louvered doors?
Sliding doors would be a perfect alternative for you. Moreover, it is easily adjustable to match your interior. They are not only saving you a closet space but also can fit into your interior design. 
Another possible variant is panel bifold doors, which can also save you storage space. 
What can I use instead of bifold closet doors?
If you wish for something elegant and functional with a modern take, then sliding doors are just for you. They are quite similar to bifold closet doors as they are placed on a wardrobe door frame track. But the distinct difference between these two would be that wardrobe doors would be pushed to the side rather than being folded up. 
Read More: How Much Ventilation Do I Need for a Furnace in a Closet?